Welcome from the Vice President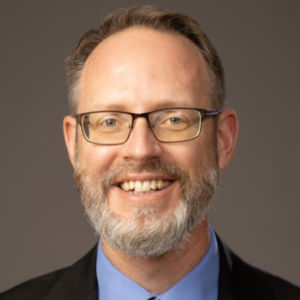 Many today are asking, "What is the value of a university education, and is it worth it?" An answer to this question depends in part on what makes a university education excellent. While we are absolutely committed to training students in practical skills to get a job, support a family, and build a successful career, we are committed to so much more than this. Indeed, we prepare our students for a life-mission: to become ethical leaders in their communities of family, workplace, and society. How do they become such ethical leaders? By building personal character traits, or "virtues."
What is the value of virtue? Priceless. Virtues empower students to thrive as individuals with integrity, to contribute to the common good and the flourishing of society, and even to glorify God. Among the core virtues we hold especially dear at Saint Mary's are wisdom, justice, resilience, courage, self-discipline, hope, zeal, and charity. All this is why "it's worth it." (Visit our "Position Statement" for a fuller outline of our vision.)
One saint, Irenaeus of Lyons (d. 202 AD), famously said, "The glory of God is man fully alive" (or "the human being flourishing"). By integrating character and virtue throughout our curriculum and campus life, we hope for no less than that our students might discover a deeply meaningful life, a flourishing life, even that they find life "to the full" (John 10:10).
To that end, students at Saint Mary's are invited to join their desire for practical job skills and training to the intentional pursuit of moral and intellectual excellence. Indeed, our very motto is Virtus et Scientia. A poor translation of the Latin would be "power and science," not a very noble aim. A more accurate translation of our motto is actually "virtue and knowledge," which refers to the union of moral and intellectual virtues.
Over a few short years, Saint Mary's is well on the way to becoming "regionally dominant and nationally prominent" in the area of character education and virtue formation. Please enjoy the resources, stories, and programs on this website and share what is useful with others.
St. John Baptist de la Salle, pray for us!
Mary, Patroness of our university, pray for us!
Live Jesus in our hearts! Forever!
Mathew T. Gerlach, Ph.D.
Vice President
Office of Character and Virtue Ethics

Director and Endowed Chair
Hendrickson Institute for Ethical Leadership

Core Associate Professor of Ethics and Leadership
School of Business and Technology

508-457-8716
mgerlach@smumn.edu

Meet the Vice President

Dr. Matthew Gerlach is the first vice president of the Office for Character, Virtue, and Ethics. Since 2001, Dr. Gerlach has taught in high school, university, and seminary settings in the fields of theology, philosophy, and interdisciplinary courses and programs. Inside and outside the classroom, whether in his teaching or in administration, his work has focused on the integral development of students in their intellectual, moral, spiritual, and professional dimensions. Dr. Gerlach has developed extensive higher educational leadership experience in creating, directing, contributing to, and overseeing academic departments and formation programs, including an innovative interdisciplinary studies program, global studies programs, distance education programs, and an honors program. He is married to Michelle (Gacioch) Gerlach and they have four amazing children. He enjoys hiking the bluffs of Winona, MN, which they now call home.
Mission of the Office for Character, Virtue, and Ethics

This office supports everyone at Saint Mary's as we seek to be more intentional, planned, and organized in carrying out our mission to form ethical leaders, that is, leaders of good character who will seek to serve the good of others whether at home, at work, or in our religious and civic communities.
Over the next several years, we will be advancing innovative university-wide efforts to design, implement, assess, and enhance transformative character and virtue formation activities both inside and outside the classroom.