Welcome from the Dean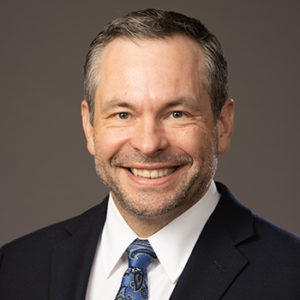 Over the course of my nearly 30 years in education, I have observed a persistent, industry-wide need for values-driven curriculum and personal development. The university-wide commitment to character and virtue education advances our strategic plan "Building a Future Full of Hope 2025" and our Lasallian Catholic mission to awaken, nurture, and empower learners to ethical lives of service and leadership.
The school of education contributes to this mission by facilitating students as they become freedom conscious, principled, values-driven teachers and educational leaders. It is challenging but noble work, and I intend our renewed focus on character and virtue to help us reshape our conceptualizations of education.
I was impressed by Saint Mary's reputation for fostering a learning environment centered on both personal development and academic achievement. I am proud to be a part of a university that distinguishes itself by advancing these ideals "together and by association" for the betterment of society and the promotion of human dignity.
In the spirit of our patron saint John Baptist de La Salle, I thank you for your interest in the school of education. And I encourage you to learn more about the programs we offer. All of our dedicated faculty and staff are ready to work with you.
Michael Lovorn, Ph.D.
Professor and Dean
School of Education
Saint Mary's University of Minnesota
Michael Lovorn began his career in education in 1992 as a teacher of middle and high school social studies. He earned a Ph.D. in curriculum and instruction at the University of Tennessee in 2003, and since that time, has served as a teacher educator (social studies), program director (international education), assistant dean (global engagement) and dean (education). He joined Saint Mary's in 2021.