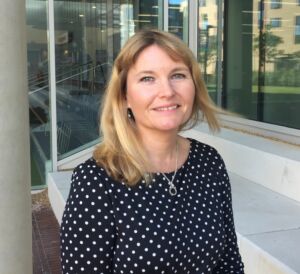 On Tuesday, Sept. 19, 2023, Saint Mary's University of Minnesota welcomed Dr. Liz Gulliford for a Cardinal Virtue lecture on "How Gratitude and Related Virtues Help Students and Teachers to Flourish." This lecture presented gratitude as central to the other virtues and human flourishing. The Cardinal Virtue lecture was open to the entire Saint Mary's community. Earlier in the day, Dr. Gulliford facilitated conversation with faculty on the virtues of servant leadership.
On Wednesday, Sept. 20, Dr. Gulliford facilitated another conversation primarily on her research on forgiveness, at the Minneapolis campus. This gathering was open to all faculty, staff, and students.
Dr. Gulliford is an associate professor in psychology at the University of Northampton (UK). She is also an honorary research fellow at the Jubilee Centre for Character and Virtues at the University of Birmingham as well as a senior psychology advisor with the Oxford Character Project.